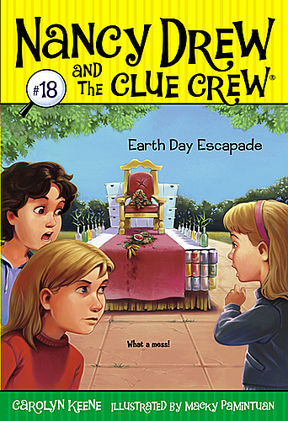 Nancy Drew and the Clue Crew – Earth Day Escapade
What is the name of the author of the book?
Earth Day Escapade is written by Carolyne Keene.
Brief Description of the Book.
River Heights Elementary School is putting on an Earth Day parade, and Nancy's class has a special honor: They get to build the float! Nancy, Bess, George and all the other kids in Mrs. Ramirez's class has worked hard to make the 'greenest' float they can, collecting recycled materials for decoration.
But somebody destroys all the fun and destroys the float a few days before the parade. Who could have done something like this and why? Sounds like another case for the Clue Crew!
What made me choose to read this book?
The cover really attracted me.
What did I feel after reading the last page of the book?
I felt great as I'm very interested in suspense and mystery.
Would I recommend it to someone or not and why?
Yes, I would recommend this book tho my friends who like mystery and suspense.
Any movie/tv series based on this book?
No.
Any prequel/sequel to this book.
Earth Day Escapade is the 18th book in this edition. It is preceded by Wedding Day Disaster and succeeded by April Fool's Day. 
PROS:
Has a lot of mystery and suspense in it.