Neerja Movie Review
Background – Neerja is a true story of  Neerja Bhanot 23 years of age who was a model & air hostess. On 5th September 1986, (2 days before her birthday) Neerja, head purser (for the 1st time) to PAN AM flight 73 was flying to NewYork via Karachi & Frankfurt with more than 379 passengers on board when the plane was hijacked by Palestinian terrorists.
Neerja enacted by Sonam Kapoor and movie directed by Ram Madvani is by far the best  Sonam movie you have ever seen. "Your life should be big, not long," declares Sonam Kapoor in the opening scenes of Neerja. The movie documents this saying perfectly by displaying the life of Neerja a brave flight attendant who moves on from her failed marriage to become a 'Hero' for the nation by sacrificing her life for the safety of her passengers.
Mind you, this brave attendant could have survived the firings of the terrorists if she wouldn't have thought about the kids who were left back. She managed to successfully get some of the passengers out while some, unfortunately  succumbed to their destiny.
FYI. 359 passengers survived the ordeal
Movie has Rama and Harish as Neerja's middle class parents played brilliantly by Shabana Azmi and Yogendra Tikku.
Shabana Azmi knocks you off as Bhanot's mother. Her priceless emotions of fear & anxiety of loosing Neerja but still staying strong manages to just choke you with tears streaming down your cheeks. Upon her daughter's death anniversary, the scene in which she speaks about her valiant daughter and how she misses her every day after her death will break you down completely… Time to keep those tissues in hand.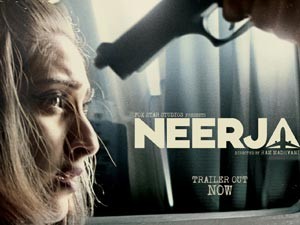 Sonam has earnestly tried to recreate Bhanot's fateful encounter with armed Palestinian terrorists and she scores full marks in it.
A beautiful blend of fear, tears, bravery, strength, wisdom, love and above all, humanity in her character. Makes you fall in love with this charming strong headed girl. There's nothing to distract you from Sonam's strong performance. (No loud costumes, no amateur behaviour etc) With hardly any sign of self-indulgence, Kapoor gives a real spin to the hijack ordeal.
Watch this 'Jhakaas' movie and guaranteed you won't be disappointed. I give this
. It's worth the watch as it will broaden your perspective of history that at times just get unnoticed.
A Big Salute goes out to Neerja. RIP Neerja …. U make us Proud  ?
Watch Neerja Bollywood movie trailer here: