Cocktail Bollywood Movie Review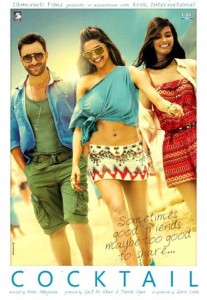 Cocktail is a sweet chick flick with a good hero. It is about friendship and love and how these can force a person to choose either one of them. The film holds up to its name because of the sundry impacts that drive the story and its characters. I feel this movie doesn't have a moral message other than the fact that sometimes it's not the immoral, party girl that wins, it's the well-mannered, moral Indian girl that wins.
This story is written by Imtiaz Ali and directed by Homi Adajania. It has Saif Ali Khan, Deepika Padukone and Diana Penty in lead roles.
The 40-year-old Gautam (Saif Ali Khan) is being passed of as a 30 something Indian dude in London. Gautam's character crosses the charming quotient Ashton Kutcher's flirty Michael Kelso from 'That 70s show'.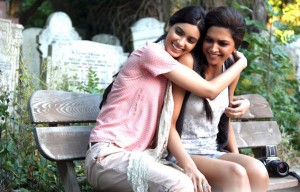 Gautam shares an accommodation with two girls, the spoiled, rich Veronica (Deepika Padoukone) and a well-mannered woman Meera (Diana Penty). It has to be a coincidence that Veronica is named after the hottie in the Archie comic book series and she also resembles that character a bit. Diana Penty kind of looks like Brazillian model Lais Ribeiro, according to me.
While the player Gautam and the wild girl Veronica decide to live together but without commitments, Meera is put into a mixture of constraints. A twist makes sure that she is stranded in London. Veronica notices her and takes her home.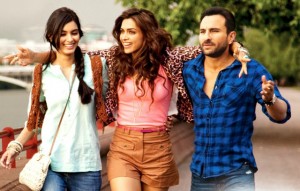 The story takes a funny turn with the coming of Gautam's mom (Dimple Kapadia). To hide his wild relationship with Veronica, he acts as if the more traditional Meera is his girlfriend. Mom is pleased with his choice and he is forced to hang out with Meera. Predictably, he falls in love with her. That's when Veronica realises she is in love with Gautam.
This movie is basically the normal love triangle which are seen in most of the movies like this. The film works to leave a comment that a trillion others have shown in the past that when it comes to love, the heart and brain always contradict.
The songs in the movie are pretty good.
My opinions
I wouldn't say that this movie is something you should watch if you are really looking forward to a nice rom-com. Some people might think differently and might say that this movie was great but I felt like there are better Bollywood rom-coms I have watched. The movie was supposed to be a rom-com, but I didn't see much of the comedy in it. There were two or three times where I actually laughed, but the rest of the movie was not funny.
Genre of the movie
Comedy
Romance
Drama
Romantic-Comedy
Comedy-Drama
My favourite character
My favourite character is Meera (Diana Penty) because she was really nice and sweet and she was ready to give up the man she loved for her best friend. I also liked Veronica because she helped Meera when she was stranded in London and had no one.
Watch the trailer here: