Maheshinte Prathikaram Movie Review
Directed by Dileesh Pothan, Maheshinte Prathikaram is a Malayalam movie set in a homely background where Fahadh Faasil plays the role of Mahesh, an innocent photographer.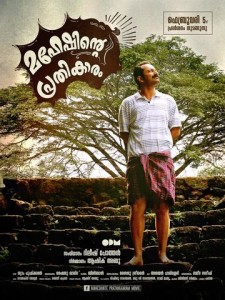 He is wooing a girl named Soumya (Anusree). When everything was going pleasantly, he gets humiliated by a person during a fight. At the same time, he suffers a misfortune in his relationship with Soumya. The film features the revenges he takes upon those who humiliated him publicly. While he was all set for his revenge he a meets a beautiful girl Jimsy (Aparna Balamurali) and falls in love with her. Pothan made a very good debut as a director in this movie as the movie kept the audience engaged in experiencing something good. The way in which the movie was shown was very simple and at the same time, it has all the components to make a person immersed in the movie.
Syam Pushkaran has done a very good job with the script and the one-liners were received by the audience with great delight. The visuals given by none other than Shaiju Khalid, is absolutely stunning. The music directed by Bijipal was also good and the way the music and the visuals praised each other was amazing too. The editing by Saiju Sreedharan is also very good.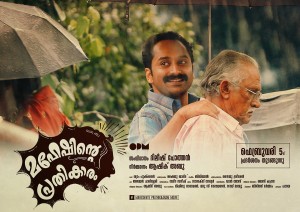 Fahadh Faasil is much effortless in his performance as photographer Mahesh. Another character which received appreciation was Crispin who was played by Soubin Shahir. He was very hilarious and the applause he gets when he enters the movie underlines his popularity among the movie lovers.
Anusree once again proves that she is a very talented yet underrated actress in the film industry. Other actors like Alancier Lay, Dileesh Pothan, Jaffer Idukki etc have also played their roles well. Newcomer Aparna Balamurali has also done well. The makeup, lighting and scenery were also very good in this movie.
My opinions
A very good movie with very good one-liners in it. It is a mixture of drama, romance and comedy.
Genres of Maheshinte Prathikaram
Comedy
Romance
Thriller
Drama
My Favourite Character
All the characters were equally good. The actors did their jobs very well.
Watch the Maheshinte Prathikaram trailer here:
Have you watched this movie? What do you think? Let me know what you loved the most about the movie. I would love to hear from you in the blog post comments.