Kung Fu Panda 3 Movie Review
Of all the Dreamworks Animation Franchise lead characters, Po, the often silly ill-fated but ferocious titular Kung Fu Panda 3 voiced by Jack Black is the most undeniably lovable. So Kung Fu Panda 3 has got that going right.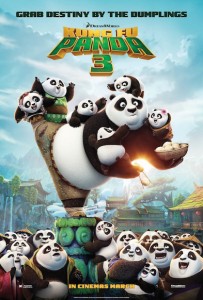 The movie is funny, of course, but also spirited in every way.
In this movie, Po (Jack Black) is reunited with his long-lost dad (voiced by Bryan Cranston) and they go to a panda village where we all are introduced to a lot of new characters to make this sequel more interesting. It is there that Po gets promoted from a student to a teacher when he has to develop this village of pandas who are ill-prepared to become fighters in the fight against the evil Kai (J.K. Simmons) who has been going across the Orient defeating Kung Fu Masters. The eventual fight will be against Po, who must stop him.
All the well known components that made the first two prequels box-office hits and an Oscar nominated animated movie are still there but the hidden heart of the story has been eased and been given more dignity this time. The regular gang – Tigress (Angelina Jolie), Monkey (Jackie Chan), Viper (Lucy Liu), Mantis (Seth Rogan), and Crane (David Cross) along with Po's loving adoptive dad (James Hong) and the wise Shifu (Dustin Hoffman) who is still dispensing his worldly advice.
The direction is fantastically done by Jennifer Yuh Nelson and Alessandro Carloni while the genius script is penned by Jonathan Aibel and Glenn Berger. They have given numerous jests but the movie never gratifies to just the small fry. This movie has true soul. The movie also has Jack Black, whose vocals as Po is amazing. Overall, the Panda team has done it again, making it a magical and spiritual adventure of fun, excitement and obviously, heart.
My opinions
A must-watch movie. Totally funny and has a very good message within the movie at the same time.
My favourite character
My favourite character is obviously Po because he embraced a very important motto of life and he also made his fellow friends understand it.
Genre
Animation
Action
Comedy
Adventure
The British boyband The Vamps also sang a fantastic track called Kung Fu Fighting for this movie.
Watch the Kung Fu Panda 3 trailer here:
Have you seen Kung Fu Panda 3? Comment below and let me know what you think about this movie.