Queen Movie Review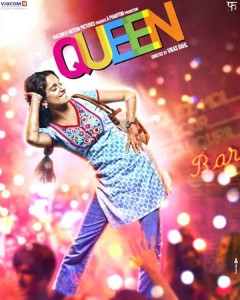 Directed by Vikas Bahl, Queen is a Bollywood drama-comedy movie. It has Kangana Ranaut in the lead role, Raj Kumar Rao and Lisa Haydon in supporting roles.
Rani (played by the elegant Kangana Ranaut), is a very sweet and obedient girl, whose father is a confectioner. When her going-to-be-husband, Vijay (Raj Kumar Yadav) ditches her right before her wedding, she is heartbroken. She decides to go for her honeymoon alone, which was pre-booked, to Paris.
As she reaches Paris, she meets Vijayalakshmi (Lisa Haydon), a free-spirited woman of French-Spanish-Indian descent, who works at the hotel in which Rani is staying. Together they go through series of adventures, which reminds her of Vijay patronising her and forbidding her from drinking and dancing, which she is free to do in Paris.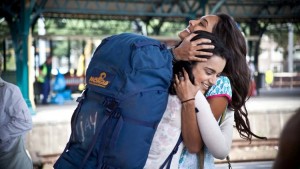 After a couple of days in Paris, she bids farewell to Vijayalakshmi and heads to Amsterdam. To her horror, she finds out that she has to share her room with three men. She hesitantly stays there, as she doesn't have anywhere else to go. Despite being uncomfortable with the boys, they soon become friends and have lots of fun together.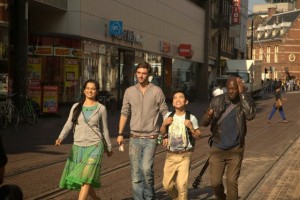 The movie highlights all of the fun things she did and all the people she met as a result on not marrying her fiancé. Ranaut gracefully plays the role of Rani. The beautiful Lisa Haydon plays her role as the free-spirited Vijayalakshmi very well. The cinematography by Siddarth Diwan and Bobby Singh is also excellent. Vikas Bahl has impressed me with his outstanding directing skills. The movie had equal proportions of drama and comedy.
The music, composed by Amit Trivedi and Rupesh Kumar Ram, complemented the amazing cinematography. I especially loved the song 'London Thumakda'.
Listen to and watch it here:
My opinions
It was a great movie on the whole. The actors were great, the direction and cinematography was amazing and the makeup and scenes were awesome. The songs were very catchy.
My favourite character
I loved Rani a lot. Kangana Ranaut has played the role very beautifully.
Genre
Watch the 'Queen' movie trailer here: