Jai Gangaajal Hindi Movie Review
Jai Gangaajal isn't a sequel of Ajay Devgan's Gangajal ( if that's what you thought). Jai Gangaajal has the ravishing Priyanka Chopra as an IPS officer. Will this movie manage to do justice like the legacy that Gangajal carries? Read on..
Movie begins with respective introductions of the corrupt cop Bhola Nath Singh (director Prakash Jha), Babloo Pandey aka Vidhaayak', Dablu Pandey aka chote vidhaayak etc who are the reasons of all the unlawful things happening in the village and are a part of the corrupt system.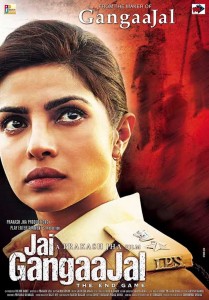 Abha Mathur (Priyanka Chopra) is the fearless dutiful IPS officer who gets transferred to handle the lawbreakers.
Unlawful happenings like corruption, rape cases and helpless farmers suicides (due to non payment of the loans taken) are things that demand her attention. Whether she is able to eradicate all the above, whether the corrupt cop decides to take a u-turn from his path & support her in this cause is for you to find out in this not so engaging flick.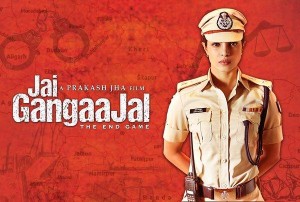 As for the performances goes, Priyanka steals the show whether it be her perfect impeccable timing or her intimidating screen persona – she delivers a superlative performance. Prakash Jha as an actor pushes himself hard to get into the niche of the character, manages to deliver a good performance. Sadly, as a viewer, less of Priyanka is seen.
Music (Salim & Suleiman Merchant) is very average, but the background score manages to take the lead. Film's cinematography & editing is decent… No doubt there were certain scenes that were a drag & could have been avoided. Film's dialogues are excellent keeping in par with the emotion, the subject the movie carries.
Watch the Jai Gangaajal Official Trailer here: