Half Girlfriend by Chetan Bhagat Book Review
An unadorned, unbroken, interestingly told story that can make Sparks blush. In ten years, six novels and a non-fiction book has been written by Chetan Bhagat, a brave young man who has transformed Indian writing. At a time when honeyed chronicles on blue blood shenanigans sold a few thousand copies and were presented with best seller tags, this improbable author in an engineer turned investment banker made light fiction universal enough to enhance the shelves beside onions and cooking oil at department stores across the country.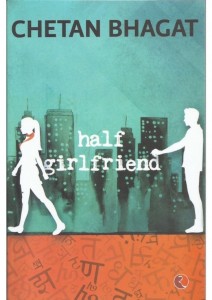 The novel is set in New Delhi, Bihar and New York. Madhav, a Bihari Boy who doesn't know much English, is on a quest for winning over the girl he loves, Riya.
Half of this book is creativity and a well written romantic story. The rest of the half is just the Bollywood masala.
It seems Chetan Bhagat is an innovative, creative and a motivating author in his earlier books, however, his skills have gotten dull in Half-Girlfriend.
Nevertheless, Bhagat has been a common man's voice and has raised the important problems like poverty, no effort by government for education, lack of English language skills among the youth etc in half-girlfriend.
There is also a movie set to be released on 28th April 2017 based on this book also called Half-Girlfriend.
Bhagat has used simple language for anyone to understand. Not only does it focus on the love story, it also focuses on the poverty issues in India.
The story is very predictable as it lacks abnormal twists. The climax is too normal. The book is a bit dragging at some points.