Rocky Handsome Bollywood Movie Review
Produced by John Abraham & directed by 'Nishikant Kamat – Rocky Handsome is the story of Kabir (John Abraham) & Naomi (Diya Chalwad). Kabir has a tragical past where he has lost the love of his life (Shruti Hassan) as well his unborn child while Naomi comes from a challenged background where she lives with her single mother who is into drugs. They both meet & share a unique friendship. A relationship that compels Kabir to find & rescue Naomi irrespective of all odds as she gets kidnapped by the leading drug dealers.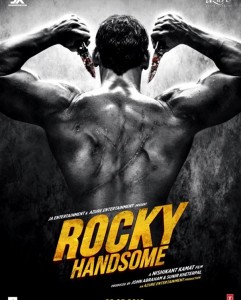 From the director of 'Force' (Hindi) and 'Drishyam', Nishikant Kamat does a decent job in holding your attention right from the beginning till the end. The first half main drama unfolds when the kidnapping of little girl takes place. From here onward, the drama-thriller is full of well-executed action, with each scene leading you to goosebumps. The second half actual plot is where the suspense begins to unfold with nail-biting moments and jaw-dropping scenes. The background fight scene during the song "Teri Toh Yaad Sataye" is one of the major highlight of the film. Even the climax scene has been well-executed.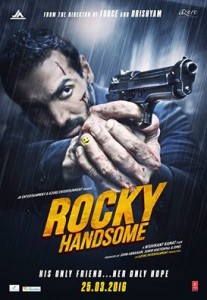 On the flip side, the story is pretty average with nothing new to offer along with loose screenplay which could have been crispier. Action scenes is the highlight of the film and deserves brownie points for keeping you engaged. Songs are melodious especially the 'Teri toh,yaad Sathaye'. Love that!
Watch the movie trailer here:
Performance-wise, it is John Abraham all the way. Though his expressions are rigid throughout the film, he carries the film with his well-defined sculpted body, macho action scenes and good performance. Director Nishant Kamat, first time as a actor, does well as villain. The child actor Divya Chalwad does justice to her role. Shruti Hassan is wasted in a special appearance.
Overall, Well executed action sequences and brutal death-defying stunts (eye popping… you'll understand what I mean when you watch it) will keep you engaged.
Rocky Handsome acts as a brownie to those who missed action films for a while.