Fan Bollywood Movie Review
Fan, directed by Maneesh Sharma is a thriller film starring the Badshah Shahrukh Khan in the lead role.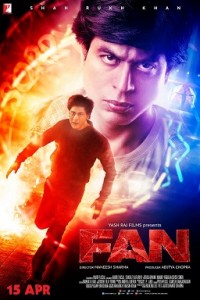 As shown in the thriller Gaurav is a die hard fan of Aryan Khanna (fictional Bollywood star) who coincidentally resembles Aryan too. Gaurav who adores Aryan since the last 25 years gets obsessed when Aryan doesn't reciprocate to his feelings the same way…. Doesn't even give the fan 5 mins of his time.
He basically gets so obsessed of Aryan that he decides to get evil with him after all it's fans who make stars.
The movie is not what I expected. Don't get me wrong. As I watched the trailer, I had low expectations but the movie managed to engage me till the end. It manages to easily make one swap spots as you start empathising with both Gaurav & Aryan's characters.
Dialogues are good, story line is too out of the shelf, can't speak much of the music as there is only the 'Jabra' song which is all viral. There was no other star cast that was noticed apart from the Khan. Gaurav's character is a well knit one where his weight loss, makeup, style, craziness dialogues just empowers his personality while on the other hand Aryan's character is all mesmerising, dashing – all polished. It's Shahrukh in a double role. I'm sure you guessed that earlier.
FAN is a well designed & well executed movie by Shah Rukh seen after a long time.
Watch the Fan movie song Jabra FAN Anthem  #FanAnthem here:
Watch the Fan movie trailer here:
Fan is definitely watchable. It's engaging to watch a powerful star and his seemingly powerless admirer indulge in a twisted battle of wills.
Kuch kuch Hua is fan ko, tum nahi samjoge.