The Jungle Book Movie Review
A cartoon series I have grown up watching & today watching it with my kids. Does it manage to do justice ? Read on…
The 1967 Disney cartoon classic comes to life in Jon Fraveau's outstanding adaptation. The Jungle Book which reveals a different world – an animal world of colours, movements, fights, love, friendship & computer generated animation.
Watch the trailer here:
Movie begins with the talented Mougli (Indian American Neel) who is an abandoned, fearless orphan brought up in the jungle who has a family of wolves and friends like Bagheera – the phantom (voiced by Ben Kingsley).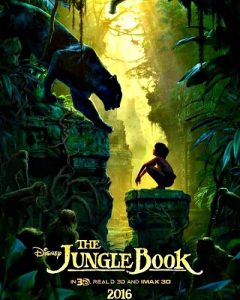 Life turns around when Mougli is forced to leave the jungle as the stubborn, wounded, ferocious Sher Khan (tiger) is all set to nail him down and anyone else who is protecting Mougli. He feels Mougli may grow up to endanger the animal kingdom.
On the constant run, Mougli encounters evil characters as well as positive characters like the sweet, cuddly honey loving 'Baalu'. Baalu is the comic relief to the movie…. The friendship shared between the two is cute.
However, this is not the place for Mougli to be. Will he stay back or leave the jungle? Watch to find out.
Like all classic Disney productions, The Jungle Book possesses its share of fear, excitement, dynamism, enticement etc.