Baaghi A Rebel For Love – Movie review
Director: Sabbir Khan
Production company: Nadiadwala Grandson Entertainment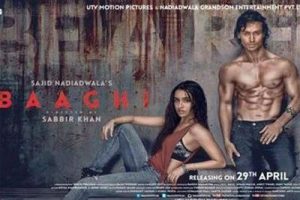 Star Cast:
Tiger Shroff as Ronnie
Shradha Kapoor as Sia
Sudheer Babu as Raghav
Sunil Grover  (uff Guthi) as PP Khurana (Sia's father… Lol)
Don't know what the director was thinking  casting him as the father. He's way too young to be Sia's father.
Anyways…
It hurts to say this: Inspite of the charming looks, macho body, flexible toned abs, jaw dropping stunts/ martial arts, amazing dance moves – Tiger Shroff looses to the story line of the movie. He can break bones with his bare hands, but he doesn't have the X factor to emotionally connect with his viewers on screen.
That's Ronnie & Raghav. And they both fall in love with her at first sight. If you thought this was silly … Read on.
Apparently Sia depends on the rain as she believes that whenever it will rain, she will meet Ronnie. Are you serious ?
Sia once again looses her innocence to her childishness with repeated dialogues 'I Quote'  to Ronnie 'You will go quite far' and his comeback to that ' I haven't yet started'…
Wow! Some dialogues are worth cheering on like the Chinese stuff dialogue to the end. Watch that.
So continuing with the story line i.e. if there was one Ronny (Shroff) the reckless rebel (which means baaghi) is all set to learn Martial arts from his dad's friend as his late father wanted him to be disciplined.
So Ronny joins the martial arts academy where he's undergoing training.  Must say he's done complete justice to the act. The villain, played by Telugu actor Sudheer Babu, is frustratingly one-dimensional. His only motive is to marry Sia whether it means to kill a few. His body guards look like jokers with all ages, shapes and sizes. There should have been more clarity given on his character.
Sanjay Mishra as the blind taxi driver is hilarious. Kudos to him!
How the movie shapes up ahead? Does Sia go for Ronnie or Raghav? Watch to find out…
This film revolves around the same gissa pissa story of two men aiming the same girl at the same time under the rains.
The film relies entirely on action sequences. Shroff bags it with his action only & not with his acting. If you are looking for a no brains feature movie and have nothing else to do , then watch Baaghi.