Azhar Bollywood Movie Review
Azhar, the much promoted movie of Ekta Kapoor directed by Tony D'souza has Emraan Hashmi, Prachi Desai and Nargis Fakhri. This is NOT a biopic of Mohd Azharuddin, so says the disclaimer at the start of the film.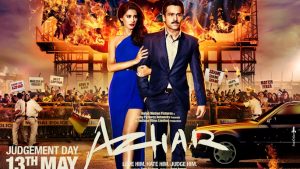 The same disclaimer insists that the film is a fictionalised version of real events that happened around in Azhar's life. Strange.
For one's who are wondering who is Azhar especially my non Asian friends, Mohammad Azharuddin is a former Indian cricketer captain and a politician. He was an accomplished batsman of his days and captained the Indian cricket team for much of the 1990s.
Watch the 'Azhar' movie trailer here:
The film doesn't waste time in establishing the film's main plot – the match-fixing that was in controversies for a long period of time, allegations against Azhar who got him even dismissed from the team. A court case that was running for a good 8 years.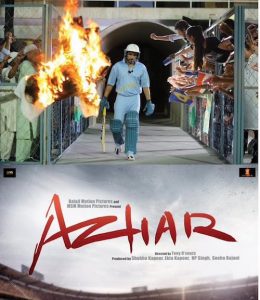 Emraan Hashmi plays Azhar with genuine sincerity. Of course, he doesn't look anything like the former cricket captain. His mannerisms are near identical to what we have seen of the man he is playing in the film. His romantic sequences with his first wife, played by Prachi Desai, are innocent. Her character is limited but yet defined compared to Nargis Fakhri who looks like a seductress gifted with pouted lips & wide eyes. Not to mention her deficient acting skills. Just watching her is a turn off.
Kunaal Roy Kapur, Gautam Gulati and Lara Dutta also pitch in some fine performances.
However, the makers' intention to give us an overview of the cricketer's story goes to ruins with flashbacks on & off. Leaving the music as the only anchor for the movie (the feet tapping 'Oye oye' and the soothing song 'Bol do na Zara') are amazing.
Listen to the song 'Oye Oye' here:
Azhar is a complete disappointment. It neither captures the spirit of the game nor Azhar's personality as a whole.