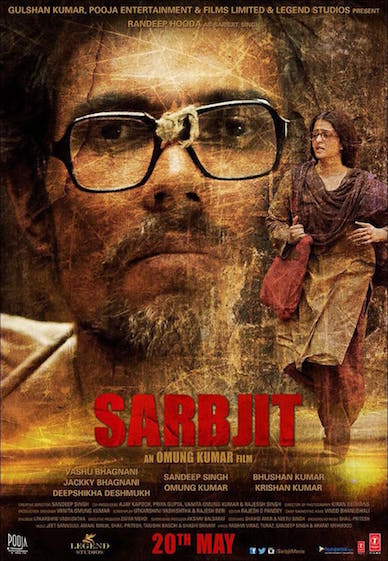 Sarbjit Bollywood Movie Review
"Sarbjit" is a biopic of Sarabjit Singh, a farmer from Punjab's Bhikhiwind, arrested in Pakistan for crossing the border while he was drunk on August 28, 1990. A small mistake that ruined his life forever. A story that clearly displays the struggle/anguish of his sister, Dalbir Kaur, who in her endeavour gives her best in bringing back her brother from Pakistan, who is convicted on charges of terrorism & bomb blasts. Crimes that were never committed by Sarbjit.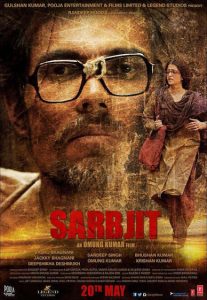 Aishwarya Rai Bachchan as Dalbir Kaur is the soul of the movie who delivers a strong performance evoking sympathy & tears with ease from the viewers.( After watching her perform in this movie, you can easily forgive her for the purple lipstick at Cannes)
Randeep Hooda as Sarbjit steals the show. His transition, physically and mentally from a happy-go-lucky man to an anguished imprisoned soul, is worthy of praise. The torture that he's been put through in the Pakistan jail is teary & shocking. Heart goes out to him.
Richa Chadda, manages to make her presence felt as Sarbjit's wife Sukhpreet..
Her wait for years in anticipation of her husband's arrival is overwhelming.
Director Omang Kumar who had earlier delivered "Mary Kom", has handled the film well. Kudos goes to the making in ensuring all critical details are highlighted except for some which were a little misleading.
An innocent story of love between a sister & her brother.
The torture that Sarabhjit was put to in order to get him to confess to something he never did is haunting. Then the patience to hopefully see his family again yet waiting for death took him 23 years is heart breaking. It reminds you that yes there may be people innocent out there but still behind bars facing imprisonment for something that they never committed. It's sad.
The film is evenly paced with a few lengthy and unwarranted scenes but overall, Sarbjit Aitwal's story is worth a watch, as it touches the right emotional chord. So don't hold yourself back in watching the awesome 'Randeep Hooda' who is indeed a star after this movie.
Salute to Sarabhjit. RIP and to his family who battled & didn't give up.
The film is emotionally draining managing to choke one with tears.