Udta Punjab Bollywood Movie Review
Udta Punjab is a controversial movie directed by Abhishek Chaubey on the outburst of drugs in Punjab that has taken the youth by storm.
Star cast – Shahid Kapoor as the maniac pop singer Tommy Singh
Alia Bhatt as the nameless Bihari girl Kumari Pink'
Kareena Kapoor as Dr Preet Sahani
Diljit Dosanjh as Sartaj Singh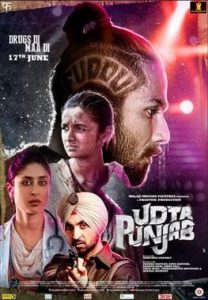 Plot –
Udta Punjab narrates two stories of Punjab. One that's flourishing from the drug business & the other is a Punjab that's drug addiction prone. And it tells this magnificent story through 4 different tracks.
1. Tommy Singh 'Gabru' (Shahid Kapoor), who is a successful pop singer among the youth but is addicted to drugs.
2.The other involves Sartaj Singh (Diljit Dosanjh), a corrupt cop who makes his additional income through the selling of drugs until he realises that the addiction is killing his brother.
3. Dr Preet Sahni (Kareena Kapoor), a doctor-activist who runs a rehab clinic.
4. Last is the nameless Kumari Pinky (Alia Bhatt) who sell drugs that ends up on her lap accidentally but to her misfortune ends up in a horrific deal with the drug dealers. A hell hole.
Though these characters have their individual stories to narrate. They somehow cross ways. Each character is stronger than the other especially Alia. Without a single shade of makeup nor even a name to her character, the petite actress manages to captivate you easily based on her uninhibited power packed performance.
Watch the Udta Punjab Movie trailer here:
Meanwhile, Dosanjh packs in a compelling screen presence as his debut in Bollywood. He is precise and discerning in his portrayal of a police inspector familiar with both the sides of the story — the victim, the victimiser. Shahid Kapoor's bursts of manic energy never once hit a false note. He deserves all the praise. Kareena was the weak link in the movie as her character was more subtle than the rest.
Udta Punjab is a mix of sharp writing & brilliant acting by all the stars. Its writing, story, dialogues, screenplay is completely rooted to the irony that Punjab faces.
The liberal use of abusive language may be too disturbing and incomprehensible for the mass & that's why the audience is limited to 18+. Udta Punjab is not a family entertainment, but it is an undeniably magnificent – and purposeful – commercial Hindi film. It's a wake-up call to the future generation carrying a loud anti-drug message.

Do not miss it.