Raman Raghav Bollywood Movie Review
Star cast – Nawazuddin Siddiqui (Raman), Vicky Kaushal (Raghav) and Sobhita Dhuliwala (Simmy)
Raman Raghav 2.0 is a thriller film, which is based on the notorious serial killer Raman Raghav who operated in Mumbai during the mid-1960s. A steel rod was used as an asset to make his murders much refined. After the Mumbai police captured him, he confessed that he had committed 41 murders. He was sentenced to death by the Bombay High Court, but it was later changed to life imprisonment.
Anurag Kashyap has written the story and screenplay for "Raman Raghav 2.0" in collaboration with Vasan Bala.
The movie revolves around serial killer Raman (Nawazuddin Siddiqui), who stalks the drug-addicted detective 'Raghav' (Vicky Kaushal) who is in charge of finding 'Raman' himself.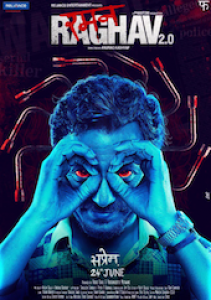 There is no reasoning to the gruesome murders committed by Raman. He kills his sister, her husband and their 6 year old child with an L shaped metal pipe. Instead he categorically says "Killing comes naturally to me like you eat, shit, sleep …" So here you have a psychopath who murders with no regret.
Equal attention is also given to Inspector Raghavan (Vicky Kaushal) drug addict who can't commit to his girlfriend, Simmy (Sobhita Dhulipala) due to the disturbed relationship he seems to have with his father. Instead he treats her not less than a doormat.
The story moves at a steady pace through chapters…through couple of murders which really didn't need to be part of the story. However, Kashyap's thriller will keep you glued to your seat in spite of an expected end.
What's Good: Nawazuddin's resounding performance and the director's obsessive exploration of the mind of a serial killer. Anurag has delved beautifully into the intellect of a serial killer.
Raman's fascinating descriptions of his delusions, his deranged thinking and his extra-casual approach towards murder are shocking to witness.
Watch the Raman Raghav 2.0 trailer here:
What's bad – Story line isn't that integrated but yet engaging.
 You need to have a stomach for the violence, swear words etc.
If you liked Badlapur, you will definitely love this one.
Apart from that, this movie isn't a family entertainment so do watch it but without kids.