Miss Claire Blusher Review – 01
Blush is one of the most essential things in a woman's makeup collection, unless you're my mom, because she finds blush an unnecessary item. Anyways, I've tried the Deborah Milano blush, and I DON'T like it. It's not pigmented, the colour isn't the best and it looks weird on the skin. I'm on a budget because I'm in high school now and my parents usually pay for my makeup, so I try to make the best out of drugstore products. That is why I bought this Miss Claire Blusher in 01, when I travelled to India for the summer.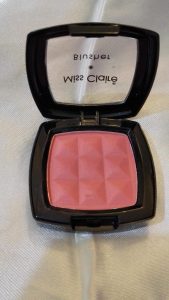 Miss Claire is an Indian brand, or I'm guessing it is, because I haven't seen much of it in other countries (unless you order it online, of course).
The Miss Claire Blusher comes in a cute packaging, and that MIGHT be the prime reason I bought it. It's a small black container and the ingredients are listed on the back. I don't read the ingredients, because a)I'm too lazy and b)I'm scared that I'll find out about some scary ingredient. Some things are better without knowing them. Do you know what the packaging reminds me of? I'm very sure I'm not the only one who thinks this way, but it looks a lot like the NYX Powder Blushes, the studded look and all.
Now, moving on to the product, this blush is fairly pigmented and the colour is very pretty. I only got it in one shade, and this one's matte, and there were a couple of shimmery shades too. This one's not COMPLETELY matte, it's got tiny, very tiny, bits of shimmer in it, but it's….what can I say… semi-matte. They all were really pretty when I swatched it at the store. This one didn't have a tester, but the guy at the counter let me test this one, so about the hygiene with makeup in India, I don't know. They are so easy to apply, because it is nice and pigmented. It's has a very silky texture.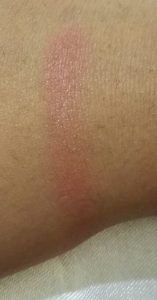 If I end up applying a lot to the cheeks, though, it might be a bit hard to take the excess of the cheek because it's a bit powdery. But that's not a deal breaker. I would recommend that you tap the excess off the brush before applying it to your cheeks, and build it up if you want it to look bolder.
I think I paid about 300 Indian Rupees for this, which would be about $5, which is awesome! You get 4g of product here, not a full ounce, but this costs $5 and it's pigmented enough, so I don't think I would run out of it any time soon.
One disadvantage about this product would be that, it's not available in many drugstores like CVS, Boots and Lifestyle, so you might have to order it online, unless you live in India, in which case, this is easily available there.
Swatching this product on your hand doesn't do justice to this product, you have to try it on you're face.
PROS:
Good colour.
Good Pigmentation.
Affordable.
Travel-friendly packaging.
CONS:
Not available at drugstores like Boots, CVS and Lifestyle.
Hard to dust off the excess off of the face as it is a bit powdery.