Flying Jatt Bollywood Movie Review
Director: Remo D'souza
  Cast: Tiger Shroff, Jacqueline Fernandez, Amritha Singh
Tiger Shroff (Aman), a martial arts teacher who fails to impress his tiny students even with his abs and chiseled physique, leads a much monotonous life. Being the son of a late Sikh warrior but afraid of height, let alone fights, he struggles to fulfil the dreams of his mother, played by Amrita Singh, who always tries to find a braveheart in her son. One day, it all changes over a fight with Raka & both are gifted with superpowers. Don't ask me how ? You will be shocked if you see.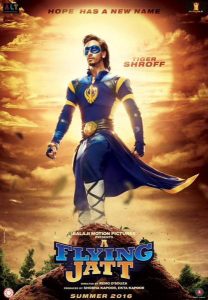 The only thing worth watching out for in this film, is Tiger Shroff. Tiger Shroff's athleticism and on-screen charm is the only good thing about A Flying Jatt. He looks good and he is sincere. Tiger dances like a dream ( Hrithik) fights flawlessly and dares to step out of comfort zone. He might not have the robustness of a superhero but his effort is worth applauding.
His competent Raka played by Nathan Jones is a unidimensional character. He looks good 'BAD'. He pops out of nowhere, inhaling waste and feeding on everything that pollutes the environment. Lol.
Amrita Singh as the nagging mother is adorable.
But there is a lot not right with the movie. Direction looks amateurish where you see the tempo dropping except for some few scenes. There are scenes that will actually make you laugh. Post-interval, its an unbearable mess. There is a love story, where the couple has no chemistry. Jacqueline Fernandez looks like a bowed up doll. She reminds me of former actress 'Neelam'.  Only difference is 'Neelam' was bearable but 'Jacqueline' isn't. Her character is not fleshed out well and she has little material to work with. She is good in acting perfectly silly.
Watch the Flying Jatt Bollywood movie trailer here:
She brings out the best in Tiger in their scenes together, which are perhaps the film's most memorable parts as she brings the fun element in the movie.
It's a fun watch for kids though teaching them a little about science & history and also watching a superhero story. However, there are scenes where you want to look at your neighbour & say 'Seriously', What is Remo thinking?