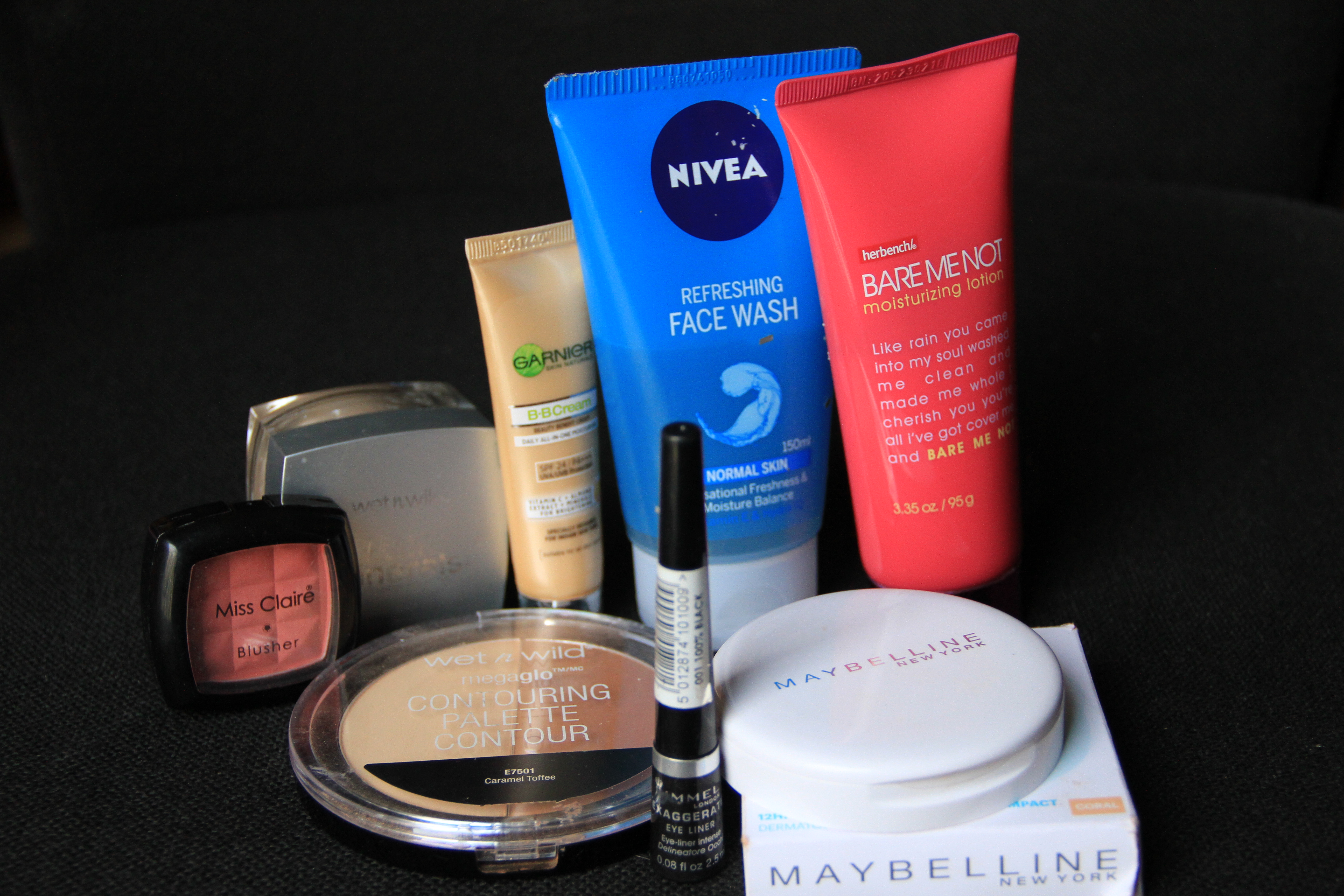 Beauty Favourites September 2016
I've got many beauty favourites this month.
Maybelline White Superfresh with Pure Perlite Powder in Coral
This powder is my new holy grail powder. I compared this to one of my other favourite powders, the Rimmel Stay Matte one, which I talked about in my June Beauty Favourites post. I feel like this one has an advantage over the Rimmel one because this one brightens under my eyes, which the Rimmel one fails to do. It sets my concealer beautifully and prevents creasing as well.
      2. Miss Claire Blusher in 01
I absolutely love this blush. It's so easy to apply as it's really pigmented. I just can't get enough of this.
      3. Nivea Face Wash.
I use this face wash after I wake up in the morning. I have combo skin and when I wake up I have oil on the sides of my nose. After I use this to wash my face, my face has a balanced amount of oil on my face. Not too oily, not too dry. Plus, this is very affordable.
      4. Garnier BB Cream.
I use this BB Cream before I put my foundation on. When I want to look dewy but not over the top dewy, I apply this and then put a matte foundation. Or I'll just use it on it's own and it brightens up my skin.
      5. Rimmel Exaggerate Eye Liner
I absolutely love this eyeliner. It's so easy to do a winged eyeliner with it and it's so black! Totally recommend it.
      6. Elizabeth Arden Beautiful Color Smooth Line Lip Pencil in Mocha
This lip liner glides on the lips smoothly and make a good base for lipstick or gloss. I couldn't find this lip liner when I was taking the pictures so it is not included in the image.
      7. Wet N Wild Megaglo Contouring Palette in Caramel Toffee.
This palette is one of the best highlight, contouring palette I've tried. The contour shade is very easy to blend and it's very buildable. The yellow shade is supposed to be a highlight shade, but you can't use it as a highlighter to highlight. Instead I use it as banana powder to set the concealer under my eyes and around my nose. It's absolutely awesome for the price.
      8. Maybelline Super Stay 14 Hour Lipstick in Always Plum
Most Maybelline Lipsticks have good formulation, so it isn't surprising that this one would be in favourites. I absolutely love it! I had to give it to my relative because she liked it so much, which is why it is not there in the picture.
      9. Wet 'n' Wild Ultimate Minerals Powder Foundation
This claims to be a powder foundation, but it's not. This mainly just a loose powder for setting your makeup. I usually use loose powder to set my under eye area and anywhere else that I applied concealer. This sets my makeup really beautifully, doesn't make the face look cakey, and I absolutely recommend it!
      10. Herbench Bare Me Not Moisturising Lotion
I've not heard any beauty blogger of vlogger talk about this product. It's absolutely awesome! It is very moisturising on the skin and just makes your skin feel so soft. It's still pretty hot here in Dubai, but in a month or so, it's going to be winter. So this is something that I would recommend using in the winter.
      11. The Body Shop Born Lippy Lip Balm – Strawberry
I've used this lip balm quite a lot, but I haven't mentioned it in my any of my favourites posts. This one is not just this month's  favourite, it's been a favourite for a long time. It hydrates my lips when they are dry and patchy. What I like the most about this product is that has a tint of pink colour to it, so you don't have to necessarily put on any lip gloss or lipstick if you are going for a natural makeup look. I ran out of it, thus it isn't there in the picture.
Those were my monthly favourites for this month! Comment below and let me know what were your favourite beauty products for this month.