Wet N Wild Contouring Palette Review – Caramel Toffee
I'm still in high school, so I don't do intense contouring, but I love using bronzer. I feel like bronzer and highlight are two necessary elements in a makeup junkie's collection. That's why this Wet N Wild Contouring Palette is one of my favorite highlight and contouring duo. I had mentioned this in my September Beauty Favorites 2016 post.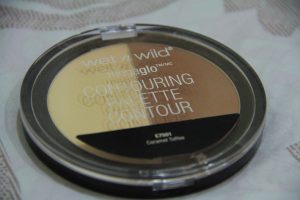 This product is has two products within it, a contour shade, and a highlight shade. The contour shade is absolutely stunning. Despite it being on the powdery side, it is so blendable and buildable. The bronzer doesn't look grey or red, it just blend into a very natural bronzy color. You can either do a very intense and defined contour look with the bronzer, or just dust the product on for a sun-kissed look.
The highlight shade, I wouldn't call as a highlight shade because it's not that. It's mainly a banana powder, which would be great to set the concealer under your eyes and around your nose. The highlight shade not something that you would apply on the high points of your face to get a glow. It's mainly just a yellow toned banana powder. Nevertheless, it's an awesome setting powder. It sets the under eye area beautifully and prevents your concealer from creasing.
They do have another shade for more fairer skin tones.
This palette as a whole is awesome! It costs about $5 and you can't beat that! I totally recommend this if you're on a budget and your looking for a contour/highlight duo!
PROS:
Very affordable.
Contour is very buildable and blendable.