Ae Dil Hai Mushkil Movie Review
Film: Ae Dil Hai Mushkil
Director: Karan Johar
Cast: Ranbir Kapoor, Anushka Sharma, Aishwarya Rai Bachchan and Fawad Khan
Special attractions –
Alia Bhatt, Shahrukh Khan, Lisa Haydon
Movie is supported by a supremely good-looking quartet, this romantic quadrangle looks copied from 'Kuch kuch Hota hai' & 'The fault in the stars'. It's like a mashup of not only story telling but of songs & a little of the old filmy dialogues.
The free-sprited Alizeh (Anushka Sharma) meets a wealthy bachelor with his own private jet Ayan (Ranbir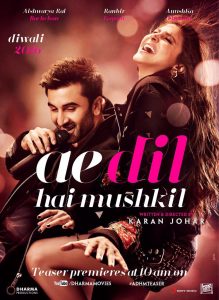 Kapoor) ( no mention made of any of their backgrounds… seems like they were born rich) at a nightclub in London.They dance away the night and hook up briefly but Alizeh writes him off as she finds him as a lousy kisser & maybe coz she's still in love with her ex 'Fawad Khan' but they hit it off as best friends having many fun times together.
Unfortunately for Ayan, Alizeh refuses to let their relationship go beyond friendship. She considers him more of a friend but less than a lover. What's frustrating is that she holds on to that opinion until the end of the film. Her belief that friends should never become lovers is exhausting for Ayan and for us.
Ranbir is like an adorable, stubborn, immature child at the beginning. His dance moves… seem copied from Karan Johar.  Thank God there was an end to it.
Being declined multiple times by the same woman doesn't make him any wiser and his relentless pursuit of Alizeh isn't too convincing. The movie may be emotional but not convincing enough for you to shed those tears. As an audience, you just feel disconnected with the superficial actors. You don't feel any of their pain, anguish, torment, distress etc.
Aishwarya Rai Bachchan, who plays an alluring poetess, is seductive, ravishing and intoxicating. Saba, her character full of charisma sadly doesn't go beyond what you see in the trailer. Unfortunately, can't speak of the chemistry shared by Ranbir & her as the scenes were skimmed out.
Also, pretty Alizeh and Ayaan wasn't instantaneous. It takes time to warm up to them. By the time you connect to them, Johar inserts an emotionally-manipulative, tragic twist to end their 'love' itself. This time he creates the battle between love and friendship with some profound philosophy that passion leads to jealousy and pain, while friendship only gives peace. So very soon 'I love you' might soon be replaced by  'I friend you.' Fawad Khan,  as the "special appearance" isn't given much hype to make his role special. His love story with Alizeh, which showed immense promise, seems to have been killed unceremoniously. What went wrong between Alizeh and his character is a mystery and leaves you wanting more.
So why would you give this love story a chance? Its so mysterious????
See the Ae Dil Hai Mushkil movie trailer here
If you are looking to see Johar evolve as a director, Ae Dil Hai Mushkil may lead you to disappointment. Thoda sa mushkil hoga isko dekhna.
You should read this – There is a point Alizeh tells Ayan, boys are like movies – you have superhits and time-passes; and interest in time passes, fails rapidly and they flop.
Ae Dil Hai Mushkil is such a time-pass. Don't keep your hopes high on this mirch masala.
So here is the thing: If you like mushy romance you might enjoy the film. It is plain old Bollywood, full of colour, full of hype( I must say).