Force 2 Bollywood Movie Review
Star cast of Force 2 – John Abraham, Sonakshi Sinha, Tahir Raj Bhasin
Director – Abhinay Deo
Story is based on the fight between Indian intelligence agency RAW (Research and Analysis Wing) and a terrorist mastermind responsible for carrying out deadly activities across the nation. The sequel picks up the story from its previous part and stars John as the same old ACP Yashvardhan aka Yash. Glimpses of Genelia brings the cute element in the movie.
The new part has Sonakshi as KK aka Kamaljit Kaur. Keeping their dislikes apart, the duo team up to capture Shiv (Tahir) who plans to kill a Minister. His motive behind the same is a mystery which is revealed towards the end.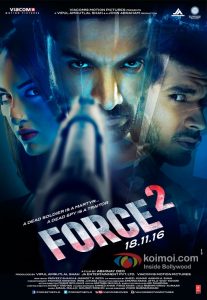 The sequel is violent more or less inspired from the last. As per storyline, can't compare as both lacked a strong foundation. The connection between the stories could have been better though. John is leading the story and making command at every point inspite having Sonakshi as his senior officer. Strange.
Sonakshi appears to be just over a decorative piece in the movie. F2 is simply straightforward, but the blend of action and dialogues doesn't go far leaving average impact. It feels unbearable at a few point of times. Movie seems to be going at a higher speed that you need to be attentive or you may miss the accuracy put in details.
John has nailed the character of ACP Yash. He has done an incredible job displaying his abs while also executing his role and thus, has overshadowed the work of other actors.But, how does John keep his bath towel tied securely while fighting baddies is the question?  Lol..
While, Sonakshi is working to redefine her image as an action girl from a bubbly girl, she doesn't seem to justify her role as a senior officer. Tahir as an antagonist has presented an incredible performance. His devilish brains is the key element required for the movie.
Watch the Force 2 Bollywood Movie Trailer here
Force 2 has got an average direction.It could have been integrated in a better way though.
The music of the movie is average as there is only 1 item number. No other songs have been added which is a good thing or it would have drifted from the subject.
The film should be appreciated for choosing counter-terrorism as its central topic. It's a story of unsung heroes who die for the country but don't get acknowledged- leave getting appreciated.