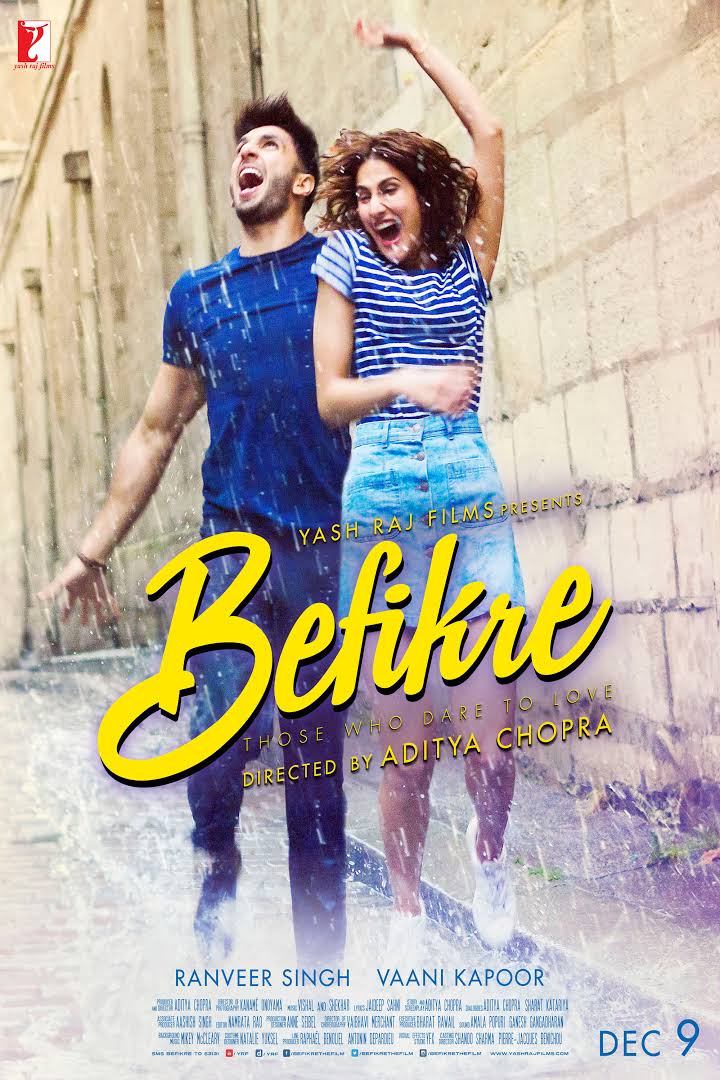 Befikre Bollywood Movie Review
Befikre written, directed, and produced by Aditya Chopra under his Yash Raj Films banner featuring Ranveer Singh and Vaani Kapoor in the lead roles. The film's songs has been composed by Vishal-Shekhar and produced by Mikey McCleary.
Set in Paris, Befikre is a free spirited, carefree, contemporary love story of Dharam (Ranveer) and Shyra ( Vaani) who find love in an impulsive, engaging series of experiences. They want to be with each other but with no strings attached. Just like 'Friends with benefits'. Sadly their relationship loses momentum and they break up to become good friends moving on with their lives.
Review: Ranveer Singh playing the character of Dharam is super cute.Well, he isn't only enthusiastic but full of fun with all the elements of life and vigor, he has showcased the character so well that at times it gives a feeling that the character was made keeping him in mind. Ranveer Singh is simply marvellous. An incredible actor. One will run out of adjectives and personifications describing his crazy performance. He steals the show all the way.
Vaani Kapoor in her new avatar looks average, doesn't look very sexy or pretty with the excess weight loss but performs very well as this free spirited girl who keeps getting into and out of relationships. The chemistry between the two is spot on. Can't say much as most of the sizzling scenes are skimmed out.
Watch the Befikre Bollywood Movie Review
The movie, hogged limelight after almost every poster of the movie featured a lip lock. Later, it was revealed that the lead pair kisses a record 40 times in the movie. Unfortunately you may get to see only 4 on screen. Befikre has brilliant production values and music, picturisation, good dialogues, selection of exotic places in Paris, excellent choreography…Ranveer & Vaani have nailed it with their dance moves & have done complete justice to the excellent music given by Vishal Shekar.
Cinematography is a class apart. Dialogues are good at times. Complete youthful romantic love entertainer with bold kind of characterization mostly seen in the film and all the credit goes to the director for such a new and fresh experimental write up with star like ranveer singh is really impressive.  Overall a worth watchable movie this weekend don't miss it.
Disclaimer- this movie may not cater to all… So watch at your discretion & let me know!
'Nashe Si Chad Gaye' and 'Ude Dil Befikre 'are feet tapping….love it.