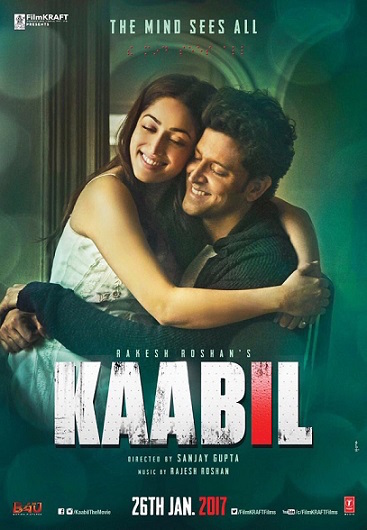 Kaabil Bollywood Movie Review
Star cast – Hrithik Roshan, Yami Gautam, Ronit Roy & Rohit Roy
Directed by – Sanjay Gupta
Produced by – Rakesh Roshan
Music by – Rajesh Roshan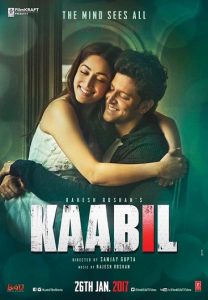 Story line – Visually impaired couple Rohan Bhatnagar (Hrithik Roshan) & Supriya Sharma (Yami Gautam) go on a blind date & later get hitched. Unfortunately their dark world comes crumbling down when tragedy strikes the couple not once but twice ensuring they are never the same again.
With not much choice left, Rohan decides to take law in his hands & that forms the crux of the tale. Specially-abled people often struggle with the system, particularly societal injustice and apathy.
Few dare to confront their antagonists head on. But desperate times demand desperate measures. Interesting concept, may not be practical leave getting convinced…
Sanjay Gupta has done some terrific work displaying the lives of the blind couple – Rohan, a proficient dubbing artist, who has strong auditory skill set & Supriya a talented pianist – who despite their handicap are content in their small dark world. You can feel their love… whether it be in the scene when they got separated in the mall or it be the magical dance they shared.
The highlight of the film is Hrithik's bravura performance. He is vulnerable as a lover and menacing as a killing machine while Yami is the perfect match, subtle and sensitive. They both play their roles brilliantly. Needless to mention the partners in crime, the bad brothers Amit & Madhavrao have been convincingly bad.
Hrithik Roshan and Sanjay Gupta consciously don't project Rohan Bhatnagar as someone you should pity. This works and you realise this is the story of an underdog you want to win. Sadly much wasn't shown of Rohan's preparations or his efforts too towards fighting his opponents… especially the scene where he fights Amit – it got me all anxious.
I wish the  director allotted more screen space for the techniques used by Rohan Bhatnagar. It's a nice way to take the story forward because Kaabil, in a way, is a mixture of two genres of films. If the first half is packaged as a love story, the second half is more of an action film.
He is there in almost every scene, and he seems to be in control of the proceedings. As a person who has suffered and is holding himself back from crying, he has done fairly well.
Kaabil is not extraordinary, but it has all the elements of a 'masala' movie. The catch is that it's been dished out in a typical Bollywood style which may not give it a novelty. But there isn't any particular reason for not watching it. So go watch & enjoy.
I give it 3.5 stars
If you have read this, do like or comment coz I would like to know your views on my reviews. Thanks!
Don't forget to share with your friends!