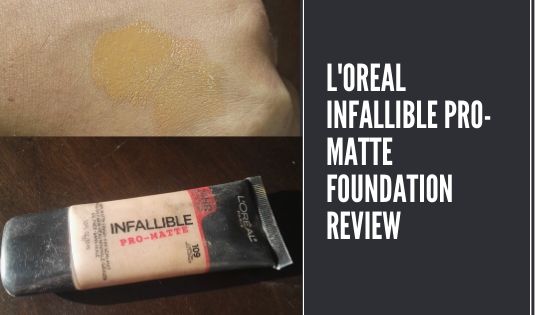 As a person with extremely dry skin, any matte or demi-matte face products are something I dread. Most matte foundations tend to dry my face out even more and exaggerate the dry patches. So, I was a little wary when trying this foundation out, since it did mention it was demi-matte. So, obviously not as scary as a matte foundation, but enough for me to not wear it for the first time to a special occasion. I present to you, L'oreal Infallible Pro-Matte Foundation Review.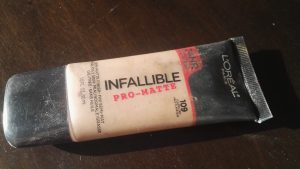 One thing I would like to mention is that this foundation shade is not an exact match for my skin tone(the shade I purchased is Classic Tan). It is a shade or two darker and definitely does not match my undertone either. So, most of the time, I had combined this with another lighter and pinker foundation/BB Cream. Now let's get on with the review.
Packaging
Let's start off by talking about the packaging. The foundation has a screw on cap, on a plastic tube. It is extremely travel friendly. All of their claims have been listed on the foundation's packaging.
Claims
L'Oreal claims on the packaging that it is a 'demi-matte, oil-controlling, medium coverage and has an air-light texture'. They also claim that it wears for 24 hours.
Performance
The L'Oreal Infallible Pro-Matte Foundation lasts for a long time. But I must admit that I have not tested it for the 24-hour mark. However, it wears extremely well when I'm out in the sun.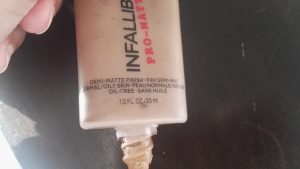 I expected this foundation to be drying, however, my experiences with this foundation has been pleasant. It is not fully air-light, but a little more heavier, like a cream. It dries to a powder finish, so it is important to work with this fast.
Once it dries, it does not cling too much to the dry skin on my face, especially because I do put on moisturizer before applying any other makeup products. It glides over my skin, instead of exaggerating the dryness, which is a nice, because it is not uncommon for a matte (or demi-matte, in this case) foundation to dry out my dry face even further.
As they claim, it is not fully matte, but 'demi-matte', so it is just great for all types of skin tones. Users with dry skin can use this product without fearing that it will be, might I say, 'too matte'. It will also work well on users with oily skin, since it controls oil to a great extent.
This foundation provides light-medium coverage, so that claim is fulfilled too. It can provide sheer coverage if you only use a small amount of the product, and build it up to medium coverage. I will say that if you try to build it up to full coverage, it might look cakey, especially on dry or combination skin.
I use my fingers or a BeautyBlender to blend the foundation out.
Foundation Shade and Undertone
As I mentioned earlier in this post, this foundation shade is a little too dark for me and has a yellow undertone. So, I mixed it in with the Rimmel BB Cream, which is slightly lighter than my skin tone and has a pink undertone. This gave me a light-medium coverage and also matched my skin tone well, since the foundation and BB Cream balanced out the undertone to fit my skin's undertone well.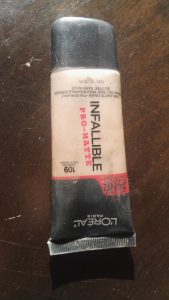 I read online, as well as heard a few YouTubers talk about how the darker shades were harder to find. They also said that there was a lack of different undertones for the darker shades. I was disappointed to hear this because L'Oreal's True Match Foundation had several colors and undertones. However, I think L'Oreal has extended their shade range for this foundation since then.
Price
I can't remember the price of this product since I purchased this product a long time ago. But after checking on L'Oreal's website, I found out that it currently retails for $12.99 for 1 full ounce.
The Final Verdict
An amazing foundation. It has great wearing power and stays on the face for a long time, and the rest of the face products go on top of it well. The foundation does not feel too heavy on the skin. It also does not exaggerate dryness. I think I would repurchase this foundation, but in a different shade. Overall, it is a good buy for the price and works well if you are looking for a natural looking foundation.