Milani is a brand that is not widely available here in the UAE. At least, I haven't come across any stores that sell Milani products. However, since I've heard several beauty gurus rave about their products, I knew I had to give it a try. So, when my dad visited the States last year, I saw this as the perfect opportunity to get my hands on this eyeshadow palette. In this post, I will be talking about the Milani Everyday Eyes Must-Have Metallics along with swatches.
Packaging
I must say, I love the packaging of this eyeshadow palette! For the price, I think the package is pretty, with the gold-colored compact. It has a clear lid, and no mirror. The best part is, at the back of the product, they have shown two looks you can create with the palette – a natural one and a dramatic one.
The Milani Everyday Eyes Must-Have Metallics is made in the USA and assembled in Dominican Republic. It comes with and eyeshadow brush with two sides, one for blending, and one for patting the eyeshadow shade on.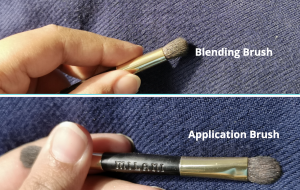 Shades
The Milani Everyday Eyes Must-Have Metallics features warm-toned metallics and satins. The sixth shade is a black shade.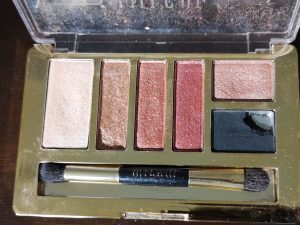 The first shade (or shade 1) is a champagne shimmery shade with a satin finish. Shades 2, 3 and 4 are metallic shades of gold, coppery orange-red and bronze respectively. Shade 6 is a black matte shade.
Performance
I would like to say that these eyeshadows are extremely pigmented, even though the hand swatches suggest otherwise. The hand swatches don't do the eyeshadows justice, because they are extremely pigmented when applied on the eyes.
The deep matte black shade is extremely pigmented as well, so if you are going for a smokey eye, use a light hand. The metallics apply like a dream. I did find that the gold shade was a little more powdery than the other five, so you can expect some fallout with that. So, to minimize the fallout and to achieve the best color payoff, I prefer using my fingers to slowly dab the product on to avoid tiny flecks on shimmer on my face.
Price
This palette retails at $7.99 on Amazon for 0.21 ounces or 6 grams of product.
Final Verdict
An incredible eyeshadow palette. I knew this palette was going to be awesome because I did hear a lot of people rave about this, but I never knew I would like it so much! The metallic shades are wonderful. The black matte shade is perfect if you want to do a smokey eye or even a winged eyeliner using an angled brush. The lighter champagne shade is amazing for highlighting under the brow bone and the inner corner of the eyes.
It also comes with an eyeshadow brush, which I must admit, I do use quite a lot since it makes it so easy to apply the shadows and to blend it evenly. An additional advantage of this eyeshadow palette is that it has two tutorials telling you how to create two looks using the eyeshadows. So, if you are running short on ideas, this will be helpful.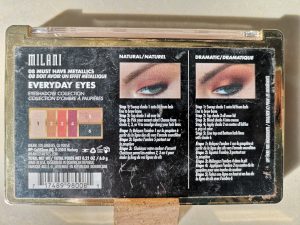 Overall, for the price paid, I think this eyeshadow palette is definitely worth the money if you are looking for an eyeshadow palette than you can use to create both a glam shimmery look as well as an everyday glowing look.