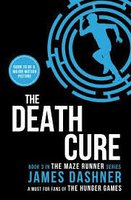 The Maze Runner – The Death Cure
Who is the author of this book?     
The Maze Runner: Death Cure is authored by James Dashner.
Brief description of the book.
The Trials are over. WICKED is planning to restore the survivors' memories and complete the final cure for the Flare.
But Thomas has already remembered more than they think. And he knows WICKED can't be be trusted…
The time for lies is over. But the truth is more dangerous than Thomas could ever imagine. Will anyone survive the Death Cure.
What made me choose to read this book?
I've read the 1st and 2nd installment in The Maze Runner trilogy, and they were awesome. So I decided I had to read the last book too.
What did I feel after reading the last page of the book?
I felt awesome as the book was great.
Would I recommend it to someone or not and why?
Yes, I would recommend it to my friends who like science fiction and post-apocalyptic fiction.
Any movie/tv series based on this book?
There is no movie/tv series based on this book yet, although there are movies based on the first two books in the series.
Any prequel/sequel to this book?
Yes, this book is preceded by The Maze Runner: The Scorch Trials.
CONS:
Ending is not very clear.