Airlift Movie Review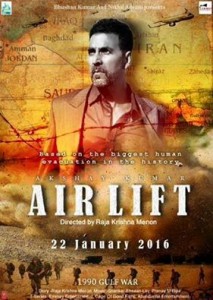 On 2nd Aug 1990, a family woke up shockingly  to early hours of firings. With no access to the outside world, just mere word of mouth they realised that Iraq invaded Kuwait… Iraqi soldiers were on the run taking over the borders, hospitals, houses, TV / Radio stations gunning down, raping, looting the Kuwaitis….Sadly the Rulers eloped first.
Situation worsens with the hour with helicopters & soldiers bombing the city. With fear of an uncertain future for over a month finally this family decides to evacuate the city. In groups with identities lost the family travels by road in the chill winters from Kuwait to Iraq, from Iraq to Jordan staying in refugee camps waiting for access to kaboos ( bread), jam & a blanket .., finally after hours of airport wait in Jordan they travel to India. It took them 5 days to reach India.. Needless to mention the fear of maybe not seeing a tomorrow….
This is no ordinary story for me as
THIS IS MY STORY…..
BEEN THERE, EXPERIENCED IT.
AIRLIFT is a Bollywood movie directed by Raja Krishna Menon which is based on the biggest civil evacuation ever staged. In 1990 Saddam Hussain invaded Kuwait, stranding more than 1,70,000 Indians. After an agreement with the Iraqi government, the stranded Indians were transported back to Mumbai by 488 flights in coordination with Indian Airlines, Air India & Indian Airforce.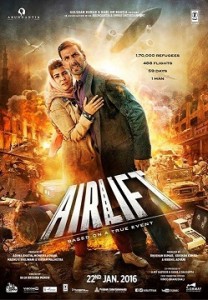 Akshay Kumar has done it once again proving that he's more than his macho looks. His character portrays a blended element of desperation, helplessness , anguish, uncertainty of the future so magnificently… Nimrat Kaur has done a decent job too of supporting Akshay in his character. Undoubtedly this movie will broaden your perspective of history.. It will make you feel proud as an Indian but somewhere I felt that Kuwait's plight, it's destruction wasn't portrayed on this platform. That could have been more elaborated.
As my sentiments/ emotions are not in control of my feelings & they are overriding my criticisms.
I also want to take a moment to appreciate the rulers of this fine city Dubai..
THANK YOU… For you make us feel safe.
The songs in this movie are really good.