Madaari Bollywood Movie Review
Star cast – Irfan Khan, Jimmy Shergill and introducing master blaster Vishesh Bansal.
Directed by – Nishikant Kamat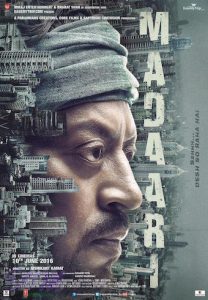 Madaari begins with an untidy, unwashed, a little mental Nirmal Kumar (Khan) kidnapping a young boy, Rohan Goswami. This boy is the son of the Home Minister in India, who holds the key to Kumar getting the attention he badly needs. He has been wronged against the system and seeks justice due to a personal tragedy that has shattered him. The first half of this film is dominated by how an Indian civilian, "an ideal voter" as described by Kumar, brings a group of powerful politicians to their knees where he's adamant on seeking answers.
It's clear that Kumar is an amateur criminal, therefore, it's easy to see why he forges a bond with the young boy, Rohan, played boldly by Vishesh Bansal. Their chemistry isn't an overnight development and it's good to see the two play off each other's energies.
Watch the 'Madaari' movie trailer here:
What is disappointing is the casual pace of the narration. As a suspense thriller, Madaari doesn't afford any startling twists. The mystery isn't nail-biting, but Irfan Khan manages to keep you entertained. Jimmy Shergill lacks professionalism in nailing Irfan down.
Director Kamath doesn't utilise heavy-duty action sequences or bombastic dialogues to drive the story forward.
Madaari was a bit engaging and touched upon some deep subjects such as corruption, the power of social media and public opinion – however lacked deep emotions & intensity.
The dialogue where the young boy fears being sexually abused is smartly played out. It's hilarious. The young lad is brilliant.