Dear Zindagi Bollywood Movie Review
Dear Zindagi stars
Shahrukh Khan and Alia Bhatt in lead roles supported by Ali Zafar, Aditya Roy Kapur and Kunal Kapoor
Directed by Gauri Shinde
The first half of Dear Zindagi focusses on Kaira aka Alia Bhatt's uff koko's character in the film who is an energetic, beautiful, talented camerawoman . Unfortunately her relationships with family & love life doesn't speak too well for itself. She fails in relationships. That's when she realises that she needs help & meets up with her psychiatrist (BD) BRAIN DOCTOR uff Dimaag ka Doctor) none other than Shahrukh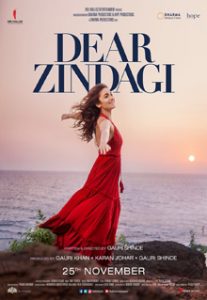 Khan aka Jehangir Khan uff Jug
Shahrukh Khan's role is more like an extended cameo, a listener & a narrator. He conveys a lot of mindful words with a lot of poise. One of my takeaways is
Don't run behind the past as it blackmails the present to ruin the future. Wow!
Gauri Shinde is outstanding in her direction. She has concentrated about the minor details making it look lavish but fails to hold audience's attention & emotions to the fullest. The plot of the film is absorbing, you will puzzle up with a lot of unanswered questions about Alia & her journey in the beginning which will probably even remind you of your younger years and your struggles.
Dear Zindagi storyline implies on two words 'Love Yourself'. There could be no better option than Alia Bhatt for this role. As a young actress, she's stunning especially in scenes where she displays her frustrations, anguish, doubts… Her meltdown scene with Shahrukh is overwhelming.
Shout out goes out to Alia's best friend ' Jackie'. Never seen her earlier – her wackiness is to watch out for.
Regarding the  storyline – there are scenes that loose momentum and are draggy.
Dear Zindagi is not a film for every type of audience. The young and the energetic could get easily connected with the movie, but it could prove disastrous for middle age people.There is no fiction and action in the film which could be another drawback considering the target audience.
Alia Bhatt's role in the film is quick love. Dear Zindagi will take you through the simple moments of life, the life that most of us miss out due to their busy schedule and commitments. The movie is a joyride with subtle comedy. Quick punches throughout the runtime will keep you entertained.
Watch the Dear Zindagi Bollywood Movie Trailer here:
The background score is exquisite, but there could be some more scope of work done in the songs. I love the title track only. A good watch for Shahrukh & Alia fans.
Let me know what you think after watching it!
It's one of the best movies by Alia Bhatt.