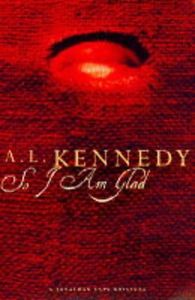 So I am Glad by A. L. Kennedy
Who is the author of the book?
So I am Glad is written by A. L. Kennedy.
Brief Description of the book.
M. Jennifer Wilson is a mid-thirties radio announcer living in Glasgow. She shares a house with Art and Liz, two typical Scotland, but her life takes a serious turn with the arrival of her new housemate, an illusory man who glows in the dark and can't remember his name. He soon reveals himself to be none other than Savinien Cyrano de Bergerac, the famous writer and duelist of eighteenth-century France, and what unfolds is a love story crisp and bizarre, tender and compastionate.
What made me choose to read this book?
I saw this book in one of the bookshops I visited, so I thought I should try reading it.
Would I recommend this to someone or not and why?
Very few people like these kind of books. But I would recommend this book to all of the people who like alchemal romance.
Any movie/tv series based on this book?
No.
Any prequel/sequel to this book?
No.
PROS:
One of the best alchemal romances of all times.
CONS:
Can be a bit lagging at times.
The reader won't be able to understand the story if he/she doesn't read it with concentration.