Houseful 3 Movie Review
Directed by Sajid Farhad, Housefull 3 features Akshay Kumar, Riteish Deshmukh, Jacqueline Fernandez, Abhishek Bachchan, Nargis Fakhri, Lisa Haydon, Boman Irani, Jackie Shroff and Chunky Pandey.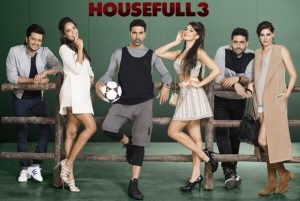 Background
Boman Irani lives in London who doesn't want his three rich daughters (Jacqueline, Nargis & Lisa) to get married. However, they all three fall in love with Akshay, Abhishek and Ritesh. Eventually to impress their future father in law, the guys end up lying about themselves in the most unusual way. How? Watch it to find out?
One positive aspect about the script is that it is clean with very minimal use of any adult comedy. The dialogues are witty but sadly that alone cant anchor the film to move forward. The plot is senseless and full of loopholes. Humour is lazy and repetitive but still manages to make u laugh & applause.
Sajid-Farhad as the director hasn't executed the movie with much maturity. Any one could predict the movie.
The music album is average.
Watch the Housefull 3 trailer here:
On the positive side, it is a time pass watch for kids and family audience. I managed to laugh along with my 8 year old.
Star Performances
♥Akshay Kumar… Wow! He just keeps getting better. His flexibility both body wise & acting shows.As always, an honest performance and it was only his comic timing at some places which will bring a smile on your face.i can just go on praising him about his acting ability.
♦ Riteish does a fine job supporting Akshay and looks good with his quirkiness. Abhishek Bachchan looks like he was forced into doing comedy.
♣All three girls Jacqueline, Nargis and Lisa are horrible. They are extremely poor in the film and had one faced expression at all times. It was more of a torture to see them speaking Hindi dialogues. They easily get overshadowed by the guys.
♦ Boman Irani does a decent job while Jackie looked like he was overacting.
Last Word
It's just about having a good time & if u need that laughter, stress out of ur minds. Go ahead watch it. Houseefull 3 is worth a watch.
Discretion – this is completely my views as I enjoyed the comedy. Don't hold me responsible if you don't like it.
It's all about keeping your brains away & enjoying this crazy comedy.