Dishoom Bollywood Movie Review
Star cast – John Abraham, Varun Dhawan, Jacqueline Fernandez, Akshaye Khanna, Saqib Saleem
Special appearance- Nargis Fakhri ,Rahul Dev, Akshay Kumar, Parineeti Chopra etc
The storyline is about an Indian batsman 'Saqib Saleem' as 'Viraj' who goes missing in the UAE. Varun as 'Junaid' and John as 'Kabir' plays the role of cops, who goes on a 36-hour manhunt, while Jacqueline plays the role of the lead who knows how to get to the kidnapper losing her heart to the muscular, always smoking 'John'. Will they manage to find the cricketer in time?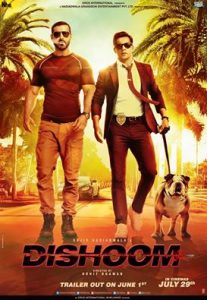 The first half is engaging while the second half is very much predictable. For that matter Varun encountering a phone call every now & then which  is hilarious is also heard of earlier (watch it & you'll understand what I mean). It doesn't bring any new humour except for some witty dialogues. As far as buddy-cops go, they are cute together sharing a unique chemistry.
Dishoom is a typical entertainer film, which has all the masala one needs. The film however lacks behind in terms of storyline and professionalism, which is compensated well by the actors especially Akshay Kumar & Akshaye Khanna who has come back on screen after a long time.
John Abraham, Varun Dhawan, Jacqueline Fernandez, Saqib Saleem and Akshaye Khanna have delivered good performances. You will be shocked. Watch out for that. Others have also done justice to their respective roles except 'Nargis' (can't stand her).
Watch the 'Dishoom' movie trailer here:
Overall 'Dishoom" has good production values, feet tapping songs (soh Tarah ke) (Love that number) amazing choreography of dance sequences along with witty dialogues.
Superstar Akshay Kumar who has played a cameo role, is one of the main highlights of the movie.