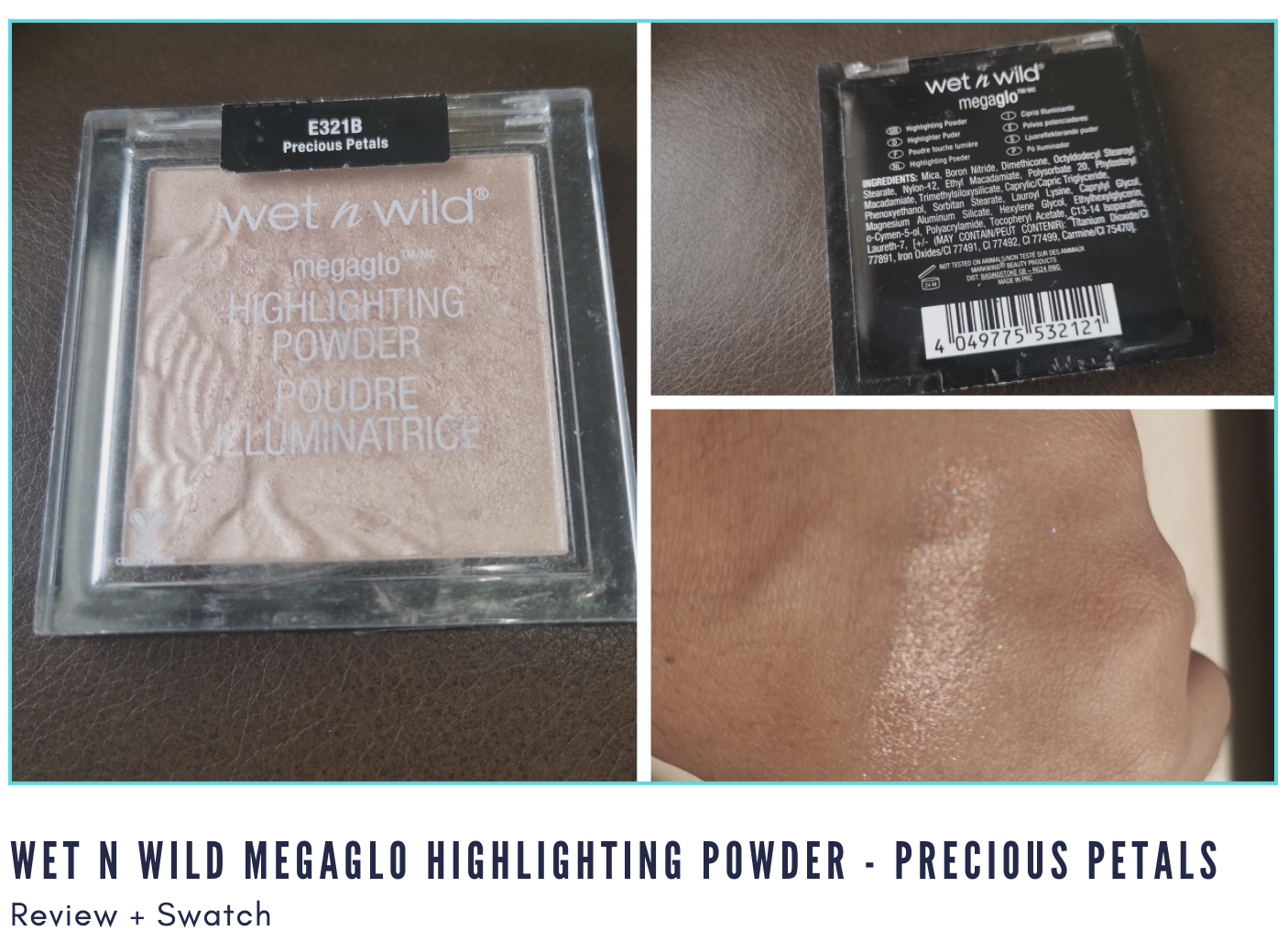 Wet n Wild is a brand that hardly ever disappoints. From their creamy MegaLast Lipsticks to the MegaGlo contouring palette, they manage to awe us all with their great formulation and unique product lines, all at very affordable prices.
Wet n Wild's MegaGlo Highlighting Powder has been a hit in the beauty community. I haven't come across a single bad review about this product. However, I didn't read any reviews before I tried this product to not have any biases.
I bought it in the shade Precious Petals. Personally, once you find a really good highlighter, you don't need 10 different ones. I think Precious Petals may have made the cut, and I'll tell you why.

Packaging
The Wet n Wild Megaglo Highlighting powder comes in a square compact with a transparent flip-on lid (no mirror). The packaging does feel cheap, understandably. This is a travel-friendly size, so it can easily fit into your purse or makeup bag. On the back side of the packaging you find a sticker with the ingredients. It is a pretty big pan so the chances of you running out of this in under 6 months is very slim, unless you use it every so often.
Shade Range
Currently, this range ofWet n Wild Megaglo  highlighting powder comes in 7 shades. I have only tried the Precious Petals shade. It is a classic champagne shade, with a hint of rose gold. It doesn't have glitter in it, which was a relief, since that is something that a lot of drugstore highlighters have.
Performance
The hand swatch does NOT do the product justice. It is way more pigmented than it looks!
This highlighter is, by far, one of the top 5 drugstore highlighters I have tried. It lasts for a very long time, even if you live in a humid climate. What I love about this highlighter the most is how it's buildable. It can be used as a very subtle, barely-there highlighter, but can also double up as an Insta-like, blinding highlight. It doesn't look patchy when building it up, which is good. This aspect of it makes it an extremely versatile highlighter.
I will point out, though, that it is a little powdery. It does have a good amount of kick-back when you run your brush through the pan. Similarly, if you are planning on using this as an inner corner highlight for your eyes, or underneath your brow bone (which this is also great for), I would recommend you use your fingers directly. Dip your index finger in there and dab it on. If you don't feel comfortable using your fingers, use a very pointy brush, otherwise you might end up having highlighter under your eyes and on your nose.
Price
The Wet n Wild MegaGlo Highlighting Powder retails for $5.99 (AED 22 approximately) on their website. However, if you wait for a sale at your local drugstore, you might be able to land yourself a good discount.
Final Verdict
I recommend this highlighter. It is an amazing buy from the drugstore. If you are looking for a pigmented, buildable and versatile highlighter that won't break the bank, this is for you! The only caveat is that it is a little powdery, but given the price point, this is not a deal breaker. Moreover, I think the shade range is huge for a drugstore highlighter, so there's something for everyone. I would repurchase this (that is, if I ever run out of it). Let me know in the comments if you would like me to review the other six shades in this collection.