NYX Butter Gloss Review – Apple Strudel Lip Gloss
Hey everyone! So, on my birthday my parents gifted me a 300 AED gift card to the mall!! And the product that I'm going to be
reviewing today is the NYX Butter Gloss in the shade Apple Strudel. This product costs $5 on their website, so maybe around 30 AED. I'm saying AED30 instead of AED18, even though $3 is approximately AED 18, because products here are slightly more expensive than if they were sold in America. So, if a product in Europe or the States or any American country costs $5 it would probably cost $8 or $9 here. Phew, sorry for bombarding you guys with all that information. The whole point of this huge paragraph was, it was supposed to be for around AED 30 but it was on sale and I got it for AED 10!! But sadly, only this shade was on sale, so I only bought this one.
Let's start off with the packaging. It's a plastic container. It shows the shade of the lipstick on it, and I absolutely appreciate it when brands do that. It makes it so much more easier to understand the shade, although it may not be accurate all the time.
Now, moving on to the actual product. The shade is a light, milky peach shade. If you swatch it at the store, then you may consider not buying it, BUT DON'T DO THAT! The first time I swatched it on my hand, I was like, 'Um, I don't know.' When I put it on my lips, I wasn't that impressed either. The formula is very light weight, though, It's just that the color can be a bit hard to handle. It just reminds me of Barbie, and well… Nicki Minaj, for some strange reason.
My skin tone is light-to-medium and people with more deeper skin tones may find this shade a bit hard to deal with it.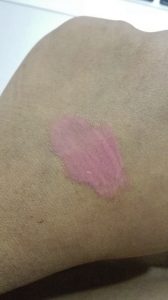 The thing is, we all tend to put a lot of lip gloss on our lips, instead of applying a little. That's okay, with certain shades. But with this shade, I figured, should be applied with a very light hand. This can also be applied at the centre of the lips, over a dark shade of lipstick, to give that extra 'something'.
It's not completely opaque, though, but it's not completely transparent either, it's somewhere in between.
The product has a slight vanilla scent to it, which I don'y mind, as I'm not super-sensitive to scents, but some people who don't like their lip products having any scent to them, may find the scent slightly annoying.
Final thoughts: LOVE IT! One of my absolute favorite lip glosses of all time! I love it! If used the right way, it can look absolutely stunning on anybody! I'm totally going to try out the other shades in the near future!
Have you guys tried this lip gloss? Did you like it? Comment below and let me know!
Purchase Now

Buy the Product

You can buy the NYX Butter Gloss in Apple Strudel here