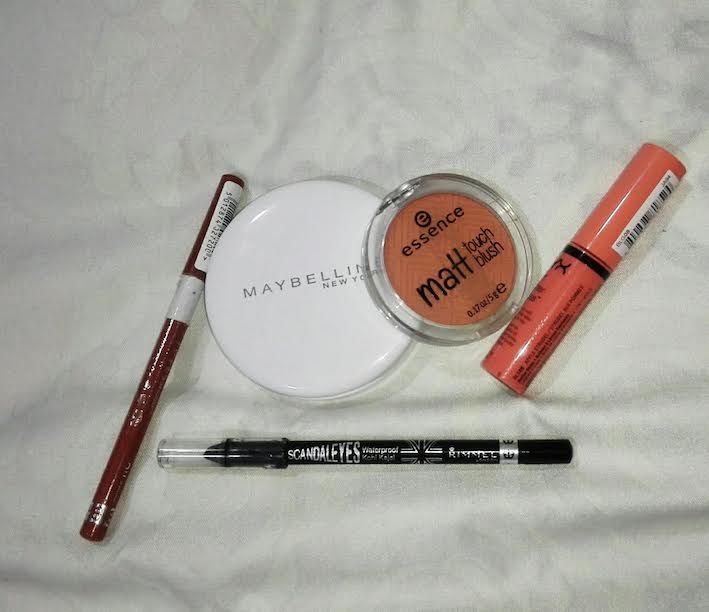 Top 5 Under 5 Dollars Makeup
Hey everyone! There are so many great products out there that won't break the bank. So today, I'm going to be listing my favourite five products that are below $5. So here's my 'Top 5 Under 5 Dollars Makeup' post!
1. Essence Matt Touch Blush in Peach Me Up!
This is a recent favorite. I bought it a couple of weeks ago, and haven't worn any other blush ever since! It is a matt blush, as the name suggests, but it doesn't look patchy or drying on the skin. It isn't overly pigmented and you can build it up to whatever level you would like. I cannot say enough about this blush! This one costs about $3.
2. Nyx Butter Gloss in Apple Strudel
This one's price on the website it $5, but as I mentioned in this post, I bought it on sale and I got it for $3. But I think $5 is fine for this post, right?
3. Maybelline White Superfresh with Pure Perlite Powder in Coral
I've already said this in my India Makeup Haul Post: I love this! What appeals to me the most about this powder is that it brightens up the under eye area and sets concealer beautifully. It's unlike any other powder I've tried! The only thing that's disappointing about this product is that on the packaging, it says that it's a 'whitening' powder. I'm totally against any products that promote those kind of irrational claims. Growing up, I always felt insecure about my dusky skintone due to the messages advertised my these kind of brands. Then I realized, if supermodels like Ujjwala Raut and Naomi Campbell are in the club, then why be ashamed? Anyway, I paid around Rs. 150 for this which is only a little over $2, and I think it's awesome for the price!
4. Rimmel Scandaleyes Eyeliners in Black
The classic black liner. This one's super pigmented and creamy! There are other awesome shades in this range, but this one is mind blowing!
5. Rimmel Lasting Finish 1000 Kisses Lip Liner in Spice,
The last product of this list, is the Rimmel Lasting Finish 1000 Kisses Lip Liner. I have this in 3 shades: Indian Pink, Spice, and Wine. The shade Spice, is a pink-undertoned nude shade, which you can use all over the lips or use it to line the lips. This range has 8 different shades of amazing lip liners that won't break the bank!
So that's my top 5 under $5 list! Have you tried any of these products? Let me know what you're favorite products below $5 are!